Watch Video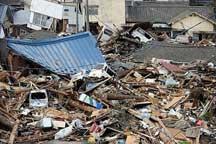 Play Video
The quake and tsunami is causing immense damage to Japan's economy. The country's central bank is now moving quickly to try to keep markets stable, injecting a record, 7-trillion yen into the financial markets. That's 85.5-billion US dollars.
The Bank of Japan Governor, Ma-saaki Shira-kawa, says the bank stood ready, to ensure the stability of the financial markets , and supply adequate liquidity, after the massive disaster. The Tokyo stock market dipped, dramatically Monday, the first business day, since the twin disasters, devastated the country's northeast.
Oil prices dropped, to nearly 99-US dollars a barrel. Shares of several major companies, were overwhelmed with SELL orders, and have yet to trade. Companies, with nuclear power-related businesses, registered staggering losses.
Automakers slid -- Northeastern Japan is a major centre for production.Insurance companies, also suffered sharp drops, as many of them, will face, heavy claims for property and infrastructure losses.
Analysts, say the prognosis for Japan's economy in the near-term, depends heavily, on whether it can stave off reactor meltdowns, at Fukushima plant.
Editor:Zhang Pengfei |Source: CNTV.CN