Watch Video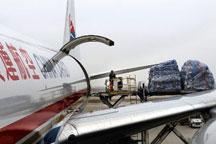 Play Video
Japan is in mourning, after seeing entire villages and towns literally wiped off the map by last week's tsunami. The wave left an international humanitarian effort of epic proportions. Foreign search and rescue teams are arriving in the country to provide assistance.
China's Ministry of Commerce says that they will provide 30 million yuan worth of emergency humanitarian assistance to Japan to help in the clean up.
A cargo plane with the first batch of relief materials has already arrived in Japan. The 100 tonnes of materials worth 10 million yuan include blankets, tents and emergency lights. On Sunday, China sent a 15-member team to help with search and rescue operations.
A South Korean Air Force plane departed from Seoul on Monday morning carrying supplies and 102 rescue team members to Japan. South Korea has promised to provide as much support as possible for Japan to recover quickly.
Maeng Hyung-Kyu, S. Korea Public Admin. & Security Minister, said, "With the genuine concern of the South Korean people, the rescue team will do their upmost to help the Japanese people who are facing this disaster."
A New Zealand search and rescue team arrived in Japan late on Sunday.
Japan had sent a team to New Zealand after a deadly quake struck on February 22, in Christchurch.
Jim Stuart-Black, New Zealand Serach and Rescue Team, said, "We received a fantastic response from Japan in the form of their own search and rescue teams. Exception that this is a very difficult time, it is our honour to be here, and to work alongside the teams here within Japan to provide assistance to those who have been affected."
Two groups of rescuers from the Russian Emergencies Ministry flew to Japan on Sunday.
A cargo aircraft left Moscow carrying 50 rescuers and equipment. A helicopter with 25 rescuers left from the city of Khabarovsk in the Russian Far East. All rescuers will join search and rescue operations in areas hit hard from the earthquake and tsunami.
Meanwhile, India has sent an aircraft loaded with blankets to Tokyo to assist Japan as a humanitarian gesture.
Editor:Zhang Pengfei |Source: CNTV.CN