Watch Video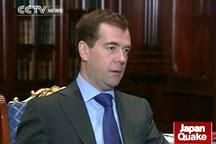 Play Video
The international community has expressed solidarity with the people of Japan. And world leaders are offering whatever help they can provide.
Barack Obama, US President, said, "I want to reiterate America's support for the people of Japan, who are some of our closest friends and allies. And I've said directly to the Prime Minister of Japan, Prime Minister Kan, that the United States will continue to offer any assistance we can as Japan recovers from multiple disasters, and we will stand with the people of Japan in the difficult days ahead."
Dmitry Medvedev, Russian President, said, "Our task now is to help our neighbors. I have instructed the government."
Silvio Berlusconi, Italian PM, said, "The news arriving from Japan is very worrying and we want to take this opportunity to express solidarity and closeness one more time with the Japanese people. We are ready to assist and help Tokyo's government in any possible way."
Yukiya Amano, IAEA Director General, said, "My sense is that in the face of all of the dimensions of the disaster and difficulties I pay tribute to the work to the work of the Japanese government experts to stabilise the reactors. The IAEA will continue to provide verified facts and coordination of assistance."
Editor:Zhang Pengfei |Source: CNTV.CN