Watch Video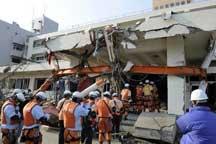 Play Video
The search continues for the estimated 10,000 people missing in the worst hit area and that is Miyagi prefecture. A traumatized daughter returned to the rubble, looking for her missing mother.
Shuko Izawa returned to find the town of Iwanuma completely demolished. She had spent two days looking for her missing 99-year-old mother in government evacuation camps. Now, in her mother's hometown, with so many homes flattened, she can't identify where the family home actually stood. Among the debris, Izawa spotted a photograph she thinks belonged to a neighbor and found curtains that may have been in her mother's home.
Shuko Aizawa, Resident of Iwanuma, said, "It is all flattened. Without the houses here, I don't recognise anything at all."
Survivors like Izawa and emergency workers are continuing their searches for the missing. But most of them have found no one alive so far.
Rescue Worker, "Our team hasn't found any survivors."
However, as long as there's any hope, the rescue team will continue their mission. Authorities say a massive search and rescue operation has been launched in the hard-hit Miyagi prefecture.
Rescue workers arriving there said it would be hard to find bodies in the floodwaters left behind by the tsunami. Police estimated 10-thousand dead among the prefecture's 2.3 million residents.
Editor:Zhang Pengfei |Source: CNTV.CN