Watch Video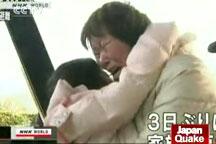 Play Video
There have been some rare moments of joy amidst the devastation, as survivors reunited with loved ones. Against all odds, a father and daughter found their missing aunt after hours of searching through the ruins.
Shuji Nikaido and his 22-year-old daughter Mizuho have walked for hours, going through collapsed houses and overturned cars. But they can no longer recognize their hometown of Minamisanriku.
Their own home on the town's outskirts was damaged, but they escaped unhurt.
Shuji Nikaido, Survivor, said, "My wife and my elder sisters were all safe as well as my in-laws. So, I am searching for the remaining relatives."
Finally, they find some familiar landmarks, and father and daughter slowly made their way into their aunt's neighborhood.
Then, sitting with a small group of other survivors, they found Noriko Sasaki - the aunt they feared was dead.
In an emotional reunion, Mizuho and Noriko rushed to hug each other, tears in their eyes.
Noriko Sasaki, Survivor, said, "You came a long way! Yes, yes, I am all right. I will not just disappear."
Minamisanriku lies in Miyagi prefecture, where over one thousand bodies were found scattered along the coastline on Monday.
Editor:Zhang Pengfei |Source: CNTV.CN