Watch Video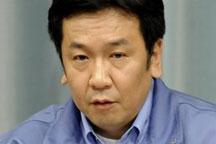 Play Video
Japanese authorities, are scrambling to avert a meltdown at the Fukushima nuclear complex, damaged as a result of the quake. Two of its reactors suffered hydrogen explosions on Saturday and on Monday, ...and some smoke was detected, from ANOTHER reactor.
The second hydrogen explosion in three days rocked the Fukushima nuclear plant, sending a massive cloud of smoke into the air and injuring 11 workers.
Fuel rods at the No.2 reactor have been entirely exposed, adding to fears of a potential third explosion at the plant.
Yukio Edano, Chief Cabinet Secretary, said, "In terms of the number two reactor, the machine to cool the reactor has stopped working. We were in process of cooling it down by pumping in water."
The UN atomic watchdog IAEA says there are no signs, at the moment, that fuel rods are melting at the nuclear plant.
Japanese officials say the reactor vessels of the affected plants remain intact. The amount of radiation that has been released is limited.
Yukio Edano, Chief Cabinet Secretary, said, "It is true that irradiated materials which are not of a level that can cause harm to humans have been emitted, but they are moving within limits, so there is no need for unreasonable worry and I think people should respond calmly."
The Japanese government has formally asked the United States for help in cooling the nuclear reactors. The US is responding to the request, and may provide Japan with technical advice.
Japan has provided 230-thousand units of stable iodine to evacuation centers as a precautionary measure.
But many residents are still in fear, as the situation is worsening.
Mrs. Monma, Fukushima Resident, said, "We evacuated immediately after the explosion. We were scared then. All the people in my community fled away."
Mrs. Tashiro, Fukushima Resident, said, "My biggest concern is nuclear radiation. It will jeopardize our health."
About 185-thousand people have been evacuated from the area in recent days. Up to 160 may have been exposed to radiation.
The municipal government of Fukushima has set up shelters in local schools and stadiums. But local citizens are still waiting for more definite information from the government.
Editor:Zhang Pengfei |Source: CNTV.CN