Watch Video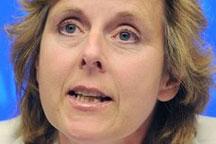 Play Video
The nuclear situation in Japan is attracting world attention and as a result many European countries have reacted.
The European Commission is urging calm after Austria called for the implementation of stress tests for nuclear power plants in Europe. The call came amid fears of a possible Japan-like crisis hitting Europe.
Austria's environment minister hoped to reassure European residents.
Nikolaus Berlakovich, Australian Environment Minster, said, "Japan is far away but no one can guarantee that such a nuclear crisis does not happen in Europe and that's why I want stress tests in order to reassure European and Austrian citizens.''
Nuclear powers France and Britain also called for calm. French environment minister Nathalie Kosciusko-Morizet said no country should over-react. Britain, which is planning a nuclear renaissance of up to 16 gigawatts of new power, said it was difficult to draw parallels with Japan, because Europe is not as geologically active.
EU climate action commissioner Connie Hedegaard echoed the calls for calm.
Connie Hedegaard, EU Commissioner for Climate Action, said, "We have something like 143 nuclear power plants in Europe, so no matter what, nuclear power will be here for some time and what really matters is to address the security issues and, of course, and also do whatever we can to try to help with the situation in Japan."
The huge earthquake crippled three reactors at the nuclear power complex in Fukushima, Japan, just 800 kilometers southeast of Russia's Pacific port city of Vladivostok.
Russian Prime Minister Vladimir Putin said on Monday that there was little threat of a global nuclear disaster.
Vladimir Putin, Russian Prime Minister, said, "First of all, according to the information we have, our experts believe there is no threat to Russian territories. Secondly, our experts think that a nuclear explosion which could lead to the destruction of the reactor itself should not take place."
Putin also said that Russia would not change ambitious plans to build dozens of nuclear power stations in the coming decades while President Medvedev ordered officials to increase energy supplies to Japan.
Related stories
Editor:Zhang Pengfei |Source: CNTV.CN