Watch Video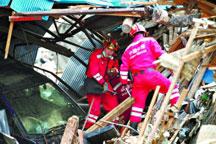 Play Video
China's International Search and Rescue Team has entered its second day of relief efforts in Japan. The squad is searching for survivors in Ofunato city in Iwate Prefecture - one of the country's hardest hit areas.
It's a battle against the clock. Four days on from the devastating earthquake, every minute means the difference between life and death.
China's 15-member rescue squad is struggling to search for survivors among the debris, risking great danger to themselves as they move from building to building.
Working in coordination with other international rescuers, the team is responsible for searching an area of almost four million square meters. Whenever they finish a search, they leave a mark for other aid workers to know the place is clear, before moving onto the next ruin.
The head of the team says there are great challenges ahead.
Yin Guanghui, Team Head, CISAR, said, "Owing to the impact of the tsunami, waves flooded the place. People buried in the debris are most likely to have drowned. Due to the nature of the sea, it's been very hard to detect survivors. But we're using special equipment."
The Chinese rescue team arrived in Japan on Sunday, bringing with them four tons of supplies and equipment.
So far, China has donated tens of million yuan worth of aid to Japan.
Editor:Zheng Limin |Source: CNTV .CN