Watch Video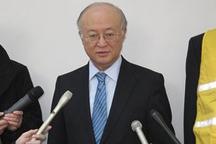 Play Video
The head of the International Atomic Energy Agency, calls the Japanese nuclear crisis "grave and serious", and is urging Japanese government to release better information concerning its nuclear situation. The IAEA has begun radiation tests in Tokyo. The radiation levels are low and do not threaten human health.
In a press conference in Tokyo, Yukiya Amano, the head of the UN's International Atomic Energy Agency, told reporters that the accident at the Fukushima nuclear plant was "serious".
Emergency crews are facing two challenges in the nuclear crisis: cooling the reactors where energy is generated, and cooling the adjacent pools where used nuclear fuel rods are stored in water.
Yukiya Amano also urges the Japanese government to provide more accurate information.
He said, "Credibility of the information - we also know now that some information was declared to be mistaken later, and it was corrected. So, we have certified that certain specific information was wrong."
The IAEA chief also says the agency will provide technical support to Japan.
The agency is obtaining information on radiation levels in Tokyo and other cities to make sure that they remain far from levels which will require action and are not dangerous to human health.
Flights and maritime operations can continue normally into and out of Japan's major airports and sea ports. There is no medical basis for imposing additional measures to protect passengers.
The Board of Governors of the IAEA will convene a meeting in Vienna on Monday. Yukiya Amano will brief member states on the nuclear emergency in Japan following his trip to the country.
Related stories
Editor:Zhang Jingya |Source: CNTV.CN