Watch Video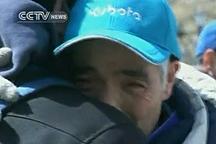 Play Video
Hundreds of families have been separated by the earthquake in Japan, so many people are considering themselves quite fortunate to find their way back into the arms of loving relatives once again. CCTV correspondent Peter Kevoes now brings us the story of a very happy reunion in one particularly hard-hit town.
Hug and tears ...
One week after the devastating earthquake struck Japan, the 59-year-old Hisayoshi Yamauchi finally reunites with his cousins.
He feared he would never see his family again.
He said, "I walked around the mountain. I went to the site of our house, but it wasn't there. All of the family members were separated, but it seems all the children survived. We're now reunited."
But some others are not as lucky.
At one evacuation center, a particularly anxious woman hasn't received any word from her husband or parents for a week. Fellow survivors make sure to comfort her.
Small crowds also huddle around notice boards, hoping for news about missing family members.
The town of Minamisanriku was rocked quite hard by last week's earthquake. The ensuing tsunami inundated the entire area, leaving barely a single house standing.
The pre-disaster population was 17-thousand people, but now, the whereabouts of nearly half of those residents is unknown.
Editor:Zhang Jingya |Source: CNTV.CN