Watch Video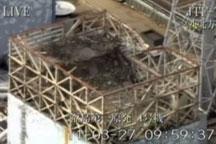 Play Video
Tokyo Electric Power is planning new measures to prevent the spread of radioactive dust from its crippled nuclear facility at Fukushima. They include spraying special concrete around the facility. But the move has been postponed because of bad weather.
It's the first time the technique has ever been tried.
Small particles of material, known as "Concrete C70 Green" are dissolved in water. The solution is then sprayed into the air. As the radioactive dust sticks to the particles, it should then fall to the ground, and stay there as the water evaporates.
The operation will be conducted by remote controlled un-manned cars.
If it proves effective, TEPCO will then spray the "CONCRETE C70 GREEN" over the entire site. It's hoped this will make the facility safer for workers, as they attempt to cool down the reactor and plug the leaks.
Rain has been forecast for today, which could hamper the move.
And it's only a temporary fix. Once the reactors become stable, more permanent measures will need to be taken to seal the buildings.
Japan detects radiation in seawater 4,385 times legal limit
The level of radioactive iodine-131 found in seawater near the troubled Fukushima Daiichi nuclear power plant, 240 kilometers northeast from Tokyo, has soared to its highest reading yet at a concentration of 4,385 times the legal limit. <Full story>
Related stories
Editor:Zhang Pengfei |Source: CNTV.CN