Watch Video
Play Video
The tension in Libya is showing NO signs of an early end. Encouraged by small victories of forces loyal to Gaddafi, nearly 100 supporters of the embattled leader gathered in front of a hotel accommodating foreign press in the capital Tripoli.
The demonstrators held portraits of Gaddafi. They expressed their confidence in the government's ability to dispel the rebels and Western forces soon. But it remains to be seen how much control Gaddafi still has in the country.
Gaddafi Supporter, said, "Do not intervene in Libya's own problems. This is a Libya that belongs to the Libyan people. The intervention by the US, UK and France will only make things more complicated."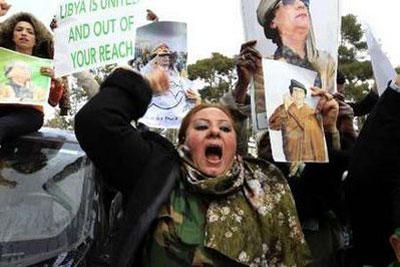 People loyal to Libya's leader Muammar Gaddafi chant slogans
during a rally in Tripoli March 31, 2011. REUTERS/Zohra Bensemra