Watch Video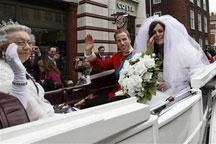 Play Video
Londoners might have been forgiven for thinking Prince William and Kate Middleton's wedding had come a month early on Friday, when a fake royal entourage passed through the city's streets.
The lookalikes dressed as Queen Elizabeth II, William and Kate resplendent in a wedding dress and carrying a bouquet - drove along an avenue in central London, in a horse-drawn carriage.
The April Fool's Day spectacle caused chaos amid the midday traffic jam and sparked excitement among onlookers.The stunt was staged to promote a new book named "Kate and Wills Up The Aisle", in which features reveal the "Private" photos of the happy couple.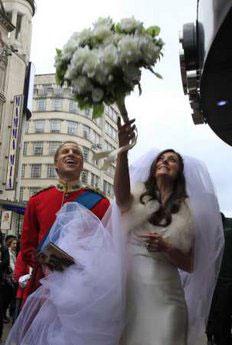 A Kate Middleton lookalike throws
a bouquet of flowers in the air, as
she walks with a Prince William
lookalike, during a media event in
London April 1, 2011.
REUTERS/Stefan Wermuth
Related stories