Watch Video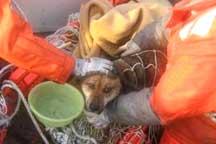 Play Video
In the aftermath of the devastating tsunami, a dog has captured the heart of Japan's coast guard. It has been rescued after surviving first the massive tsunami and then three weeks at sea.
The dog has been found on the floating roof of a house that had been washed out to sea, near the coast of Kesennuma in northern Japan.
It evaded capture for several hours as it scrambled over the large floating rubble raft.
The Coast Guard is hoping the dog can lead them to the pet's owner. While it has been shaken by the experience, the pooch seems to have got used to its new home on the coast guard vessel.
Japan initiated an intensive operation starting on Friday, to search for and recover the over 16 thousand people still missing and now presumed dead.
Japan Coast Guard members try to rescue a dog believed to have
survived the massive earthquake and tsunami of March 11 and also
three weeks at sea, off Kesennuma, northern Japan April 1, 2011.
REUTERS/Japan Coast Guard/Handout
Related stories