Watch Video
Play Video
Friday was the occasion for rallies and protests throughout the Middle East. People in various countries were out on the streets protesting against their leaders, but there were also some marching to show their support of them.
Egypt protest against former officials
In the Egyptian capital Cairo, thousands of people once again gathered in Tahrir square, the heart of the protests that ended former president Mubarak's 30-year-rule. This time,they were demanding that remaining members of Mubarak's regime be put on trial.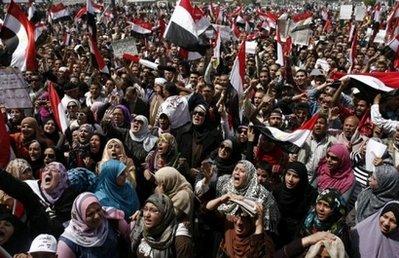 Egyptian demonstrators shout slogans at Cairo's Tahrir Square. Tens
of thousands of Egyptians gathered in Cairo's Tahrir Square on Friday,
issuing calls to "save the revolution" that ousted president Hosni
Mubarak and to rid of the country of the old regime.(AFP)
Another demand is for the transitional military government to take swift measures to return money and assets, they say were taken overseas by Mubarak and his supporters.
Rival rallies in Yemen as pressure grows
Anti-government protesters shout slogans during a rally to demand the
ouster of Yemen's President Ali Abdullah Saleh outside Sanaa University
March 31, 2011. Yemenis on Thursday commemorated dozens of people killed
in weeks of street protests demanding President Ali Abdullah Saleh resign,
as efforts continued to negotiate his exit from power within the next year.
REUTERS/Ammar Awad
In the Yemeni capital Sanaa, the embattled president Ali Abdullah Saleh, was accorded some good news, as thousands packed a square in a show of support. But that demonstration was not mirrored elsewhere in the country as protests across the nation demanded he leave office. Saleh had offered to step down by the end of the year, an offer rejected by his opponents.
Jordanian protesters demand political reform
Government supporters and pro-reform activists took part in rival marches in the Jordanian capital Amman. Protesters claim the current legislature is skewed by an election law that guarantees the king's supporters would control the house. They want the country's leader, King Abdullah, to relinquish some of his absolute powers and also demand the parliament be dissolved and new elections held.
Syria rallies honor people killed in protests
In Syria, amateur footage obtained by AP Television showed anti-government protesters gathering on the outskirts of the capital Damascus. Protesters are seen trampling on, pouring oil and setting alight poster of President Bashar Assad.
The current wave of demonstrations has proved the most serious challenge yet to the four-decade rule enjoyed by the Assad family. At least 75 people have been killed since protests started two weeks ago.
Editor:Xiong Qu |Source: CNTV.CN