Watch Video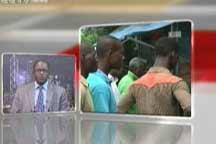 Play Video
In Cote d'Ivoire forces backing the internationally recognized president Alassane Ouattara continue trying to push out his rival Laurent Gbagbo. On Wednesday, they stormed Gbagbo's residence in Abidjan, the largest city in the West African country. Full Story>>
For more on Cote d'Ivoire, we're joined on the phone by Professor Adams.B.Bodomo, Director of the African Studies program at the University of Hong Kong.
Q1: Gbagbo lost the election in November. Why has he been allowed to effectively stay in office since then?
Q2: Things are looking bleak for the incumbent president. What do you see as the future of Cote d'Ivoire in a post-Gbagbo era?
Editor:Zhang Ning |Source: CNTV.CN