Watch Video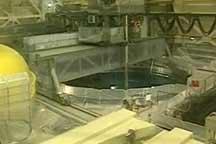 Play Video
The operator of Japan's tsunami-hit nuclear power plant continues to inject nitrogen into its Number One reactor in a bid to prevent any new explosions. However, as Dannielle Taafe explains, the plant still faces many problems in minimizing the damage.
It's been almost a month since the plant's cooling system was crippled by the devastating earthquake and tsunami.
The Tokyo Electric Power Company has ruled out any immediate threat of further explosions. But the injection of nitrogen indicates the seriousness of its remaining challenge in stabilizing the plant.
Nitrogen can prevent highly combustible hydrogen from exploding, as it did three times at the compound in the early days of the crisis.
The injection of 1,500 liters of "water glass", or sodium silicate, and other hardening agents near the seaside pit have so far been successful.
Japan's Chief Cabinet Secretary Yukio Edano said, "We asked TEPCO to test carefully the risk of taking new measurement. The possibility of hydrogen explosion at the current condition is not necessarily high. But, by injecting nitrogen, we can make the possibility very close to zero."
Based on the estimated radiation level inside the safety vessel, the plant's operator suspects up to a quarter of fuel rods in reactor number three may be damaged. Earlier, the company estimated that 70 percent of fuel rods in reactor number one and 30 percent in reactor number two have been damaged.
Authorities have tested soil samples collected from 70 locations beyond the plant's 30-kilometer exclusion zone. Radiation elements were found but in a low level. The result of test for soil from locations within 30 kilometer exclusion zone will not be announced until April 12.
The Japanese government will allow people whose homes were within 20 kilometers of the nuclear plant to return home for the first time since the disaster struck.But officials did not say when it will put into action.They say they are trying to find a way to secure safety of people during their possible hometown visit.
Editor:Zhang Ning |Source: CNTV.CN