Watch Video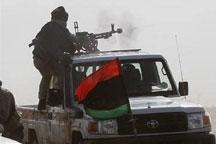 Play Video
let's begin with the latest in Libya. where Anti-government fighters are engaged in fierce clashes with forces loyal to Moummar Gaddafi for control of a major route out of Misrata, the only major rebel-held city in the west of the country.
The outcome of clashes near the city of Misrata is symbolically significant for both sides of the conflict in Libya.
Heavy shelling could be heard at nightfall outside the city.
Libyan rebels said they had repulsed a government assault on the besieged city.
A witness said rebel forces are trying to keep troops loyal to Gaddafi from taking full control of a route linking the city's centre to its port, a critical lifeline for ships carrying humanitarian supplies into the battle zone.
Some neighborhoods in Misrata have been all but abandoned by residents after weeks of fighting.
Thousands of migrant workers have not been lucky enough to flee and are reportedly trapped in the city where they face acute shortages of food, water and electricity.
NATO has been cautious about conducting bombing runs in Misrata because the fighting is mostly within civilian areas. There have been no verifiable reports so far on casualties.
Editor:Zhang Pengfei |Source: CNTV.CN