Watch Video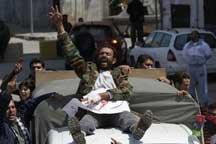 Play Video
Meanwhile there is great concern in the rebel stronghold of Benghazi after more opposition fighters were killed and many others injured near Ajdabiya on Thursday by a NATO airstrike. Our correspondent Farzana Fiaz has this report from Benghazi on how public opinion there has been affected by the accident.
This was the scene near Ajdabiya as rebel fighters came under attack by an apparent mistaken airstrike by NATO forces.
Witnesses said that airstrikes hit tanks and a rebel convoy, which included a passenger bus carrying fighters toward Brega.
The attack brought renewed questions about coordination between NATO and the various groups of rebel militia fighters.
In a press conference later, the rebels' top military commander Abdel-Fatah Younes said he assumed that it was a case of friendly fire by NATO.
Abdel-Fatah Younes, Opposition Military Commander, said, "We assume that it was NATO by mistake but at the same time we would like to think there could not have been a mistake when there are twenty tanks advancing in the desert area."
On Friday, NATO acknowledged that its airstrikes had hit rebels using tanks to fight government forces in eastern Libya, but claimed that they had not been informed of their use beforehand.
NATO's response was met by mixed reactions in Benghazi, as worshipers gathered for Friday prayers.
Abdel Salam Tarhuni, said, "I will say all Libyans they know very well that NATO do not mean to hit our revolutionaries OK? I am sure of this but at the same time they must be careful because once they have been told that this certain area is our revolutionaries' the other area is Mr Gaddafi's army. They should differentiate between these people and those people."
Naziha Suleiman, said, "I think NATO reaction is too slow. Exactly is not give us what we want. Yesterday they killed our opposition they killed our people I think the whole situation has become more bad than two weeks ago when France was working. The situation was better than now."
Adil Shuwaity, said, "This is the second time that this has happened. This is something we can't understand. We fear that maybe something, there is a deal between the leaders and Gaddafi or something like that."
A military analyst and ex-colonel of the Libyan Airforce said that greater co-ordination was needed between the rebels and NATO forces.
Atia Mansour, Military Analyst, said, "They have no idea that the revolutionaries have the same tanks. We have the same military source, we have the Russian military tanks, artillery, all the munitions. When we raided the camps, the revolutionaries, we took all the munitions: tanks artillery, ammunitions, guns, everything. They are the same as Gaddafi's military tools and tanks so they have to know that how to distinguish where are the points; where is the front? And the front is changeable every maybe one hour."
The reaction from NATO to this latest incident will increase concerns here in Benghazi - a city with very limited communications with the outside world.
And it was clearly that lack of communication that was key to the deadly airstrike on Thursday.
The faithful will no doubt be praying that a repeat of the incident will be averted.
Editor:Zhang Pengfei |Source: CNTV.CN