Watch Video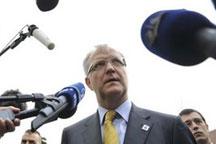 Play Video
Portugal will need around 114 billion US dollars in rescue loans according to European Union finance ministers but an upcoming election campaign in the debt-ridden country could complicate the bailout process.
Finance ministers from the EU met in Budapest on Friday to discuss the bloc's sovereign debt crisis. Portugal's finance minister has promised the country will immediately start work on fiscal adjustment and economic reforms and says that all the country's political parties must be involved.
The EU's Monetary Affairs Commissioner Olli Rehn says that an adjustment program should be in place by mid-May, meaning large bond repayments can be met in June.
Olli Rehn, EU's Monetary Affairs Commissioner, said, "As regards the concrete division of responsibilities of the forthcoming or foreseen packages of conditional financial assistance for Portugal, it will follow the same logic as the previous packages even though we have not yet finally confirmed this. But I will assume that we will have roughly 2/3 of European Union funding and 1/3 of IMF contribution. And out of the European Union funding a big part will come from the European Financial Stability Mechanism."
Editor:Zhang Pengfei |Source: CNTV.CN