Watch Video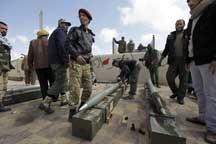 Play Video
In Libya, fighting is continuing in several locations between pro-government troops and rebel forces.
Rebels renewed their efforts to push towards the oil port of Brega, while in Misrata, alley battles were staged between pro-government troops and rebels. Su Xiaoxiao has more.
A stalemate already formed.
Libyan rebels made a renewed effort to push towards the oil port of Brega on Saturday.
But 6 rebels were killed and 16 wounded when Gaddafi loyalists fired rockets at a group driving west from the insurgent-held town of Ajdabiyah.
The rebels then halted their movement along the coastal stretch, saying at present they were unable to send more men to dislodge Gaddafi's forces.
Rebels in Ajdabiyah said Gaddafi's forces were often ensconced inside houses in Brega, while it was insurgent fighters who were more exposed.
Artillery fire was also heard coming from the direction of Brega, but it was unclear who was firing.
In the western city of Misrata, alley tactics were staged between rebels and pro-Gaddafi troops.
Rebels said Gaddafi's forces targeted food industry plants in renewed bombardment of the city on Saturday. A day earlier, a Western rights group had accused Gaddafi loyalists of using cluster bombs in the besieged city.
Editor:Zhang Pengfei |Source: CNTV.CN