Watch Video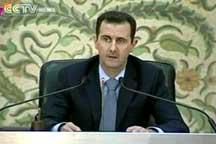 Play Video
Turning to Syria now the country's president has vowed to lift the country's state of emergency laws that have been in effect for nearly 50 years.
In his second public appearance since the protests began, President Bashar al-Assad said on Saturday that his country will try to increase income by combating corruption and searching for new mechanisms for investment.
The Syrian President says he expects the 48-year-old emergency law to be lifted by next week at the latest.
This is a key demand by a month long protest movement that has posed the most serious challenge to the leadership.
Some protests became violent and hundreds have been killed among both civilians and security forces.
Syria blames the unrest on "armed gangs" and "foreign conspiracy" fanning the flames of sectarian riots in the country.
Bashar al-Assad, Syrian President, said, "As I said earlier in my address to Parliament, there are several factors affecting this phase Syria is going through: conspiracy, reforms, and needs of the people. Conspiracy will always exist as long as Syria is functioning independently and since it takes its decisions in an approach that others do not like. And as long as there are enemies, it is usual that conspiracy will be one of the things surrounding us. Therefore, we should not focus so much on this aspect but concentrate on strengthening our internal front."
Assad has made a series of reforms, including restructuring a new cabinet headed by Adel Safar, former agriculture minister, and releasing hundreds of political detainees in addition to sacking corrupt officials.
He says the new government is also expected to issue, among other things, a new law allowing the formation of political parties and combating corruption.
The President says Syria, which is passing through a very delicate stage, can introduce a model of modern democracy and will open dialogue with all sides.
Editor:Zhang Pengfei |Source: CNTV.CN