Watch Video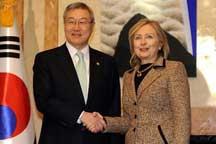 Play Video
US Secretary of State Hillary Clinton has arrived in Seoul, South Korea. Clinton has already met her counterpart Kim Sung-hwan to discuss disarmament by the DPRK, and the ongoing tensions between the South and the North.
The two are also expected to discuss joint efforts to ratify a free trade agreement.
Clinton met with South Korea's Foreign Minister Kim Sung-hwan before planned talks with President Lee Myung-bak on Sunday.
Clinton told Kim she was "very encouraged and determined" to get the free trade agreement ratified.
The pact, which slashes tariffs and removes other barriers to commerce, requires approval by US Congress and South Korea's National Assembly before it can take effect.
Kim said Clinton's visit would provide a fresh impetus for ratification.
When talking about DPRK nuclear disarmament and tensions between the South and the North, Clinton said the US and South Korea have worked well together in the past and will continue to do so.
Hillary Clinton, US Secretary of State, said, "We have worked closely together, and will continue to do so, on non-proliferation. We are looking forward to the nuclear security summit next year that you will be hosting and we are very grateful for that. We are working closely together on development issues."
Kim expressed his appreciation for steadfast support from the US.
Kim Sung-hwan, Korea's Foreign Minister, said, "Your support for our inter-Korean dialogue first was the underlying force for the progress of South-North dialogue. And I also look forward to working closely with you in resolving North Korean nuclear issues."
Clinton arrived in South Korea following two days of NATO meetings in Berlin. She's next scheduled to travel to Japan, to show US support for the country as it recovers from the earthquake and tsunami.
Editor:Zhang Pengfei |Source: CNTV.CN