Watch Video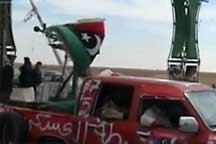 Play Video
Libyan government authorities are arming civilians to confront any possible land attack by NATO forces. This comes a day after France promised it would intensify air strikes on Muammar Gaddafi's forces.
Earlier, state media accused NATO forces of intercepting a Libyan oil tanker. Libya's state news agency, JANA, provided no further details, but declared the alliance had committed "piracy". Meanwhile, the rebels claimed to have taken control of a post on the Tunisian border. The captured post is near the former rebel-held town of Nalut, about 240 kilometers southwest of the capital Tripoli.
Rebels have also been transporting artillery toward the oil town of Brega. Elsewhere in the northwest city of Misrata, amateur videos have shown the destruction caused by battles between rebels and government forces. Witnesses there report relentless bombing by government troops.
Related stories
Editor:Zhang Ning |Source: CNTV.CN