Watch Video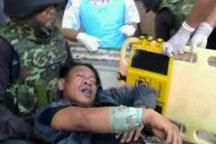 Play Video
Turning to southeast Asia now, where tensions have flared up once again between Thailand and Cambodia. Troops from both sides exchanged artillery and gunfire along their disputed border.
At least three Cambodian and three Thai soldiers were killed in the skirmish. A Cambodian official said that both sides had used rocket launchers, machine guns and rifles.
Nearly 5-thousand people have been evacuated from the region to a temporary shelter. The conflict stems from both countries' claim to the ancient Preah Vihear temple and its surrounding land.
Abhisit Vejjajiva, Thai Prime Minister, said, "We would like to reiterate that troops from both are close to one other. Therefore, any movement can lead to clashes. We have never had any intention to cause violence and we will look into the details of this incident."
Editor:Zhang Pengfei |Source: CNTV.CN