Watch Video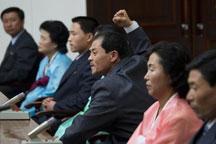 Play Video
South Korea is still refusing to return the four fishermen of the Democratic People's Republic of Korea that it says have defected. It denies the DPRK's accusations the fishermen have been kidnapped and has dismissed the allegations.
Squabbles over the fate of the four DPRK fishermen in South Korea have intensified. The focus of the argument is whether they defected on their own.
The four were among 31 fisherman found by South Korea's navy in February after drifting across the sea border between the two sides. 27 were repatriated last month. The other four remain in South Korea.
The DPRK believes its citizen have been kidnapped, and is demanding the return of the four. In a press conference given by the repatriated fishermen, one said his group was kidnapped, mistreated, and pressed to defect to South Korea.
Pak Mun Sik, Released DPRK Fisherman, said, "They dragged our boat to their ships when they tried to take us onboard their patrol ship, they were so brutal, even a wild beast would have been ashamed of behavior like that."
But, South Korea's Unification Ministry spokesman says the claims made by the fisherman aren't worthy of a response insisting the four defected on their own.
Chun Hae-Sung, South Korea Unification Ministry Spokesman, said, "They said this and that at the news conference. But it's groundless that our authorities or military authorities kidnapped them. It's not worth responding at all to what they say."
The DPRK proposes a working level meeting between both sides to discuss position of the four. South Korea has dismissed the proposal, but says it's ready to help the DPRK confirm the free will of the four, but only in a fair and objective manner.
Related stories
Editor:Zhang Pengfei |Source: CNTV.CN