Watch Video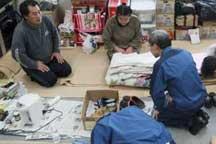 Play Video
TEPCO's much-criticized president, Masataka Shimizu has visited an evacuation center for the first time since the disaster struck.
Some evacuees at the center expressed their anger at the situation saying they want to go home as soon as possible.
TEPCO has been accused of downplaying the dangers and ignoring warnings about the risk of a quake and tsunami striking the plant.
Masataka Shimizu bowed individually to each evacuee and spoke of his wish to win back their confidence.
Tokyo Electric Power Co. President Masataka Shimizu, left, bows in
apology to Gov. Yuhei Sato, right, of Fukushima prefecture during
their meeting at the prefectural office at Fukushima, northeastern
Japan on Friday April 22, 2011. (AP Photo/Kyodo News)
Masataka Shimizu, President of Tokyo Electric Power Company, said, "I am very aware today after hearing it that the relationship and trust we have built up with the locals has totally collapsed. It is therefore very important that we now find ways to rebuild this trust even if it takes a long time to do so. "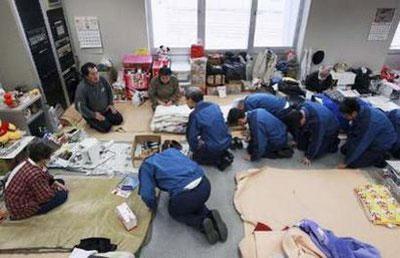 Tokyo Electric Power Company (TEPCO) President Masataka Shimizu (C)
and company officials (wearing blue jackets) kneel as they bow to
residents living in an evacuation centre in Koriyama, Fukushima
Prefecture, about 70 km (44 miles) from the tsunami-crippled nuclear
reactor, April 22, 2011. Mandatory credit REUTERS/Kyodo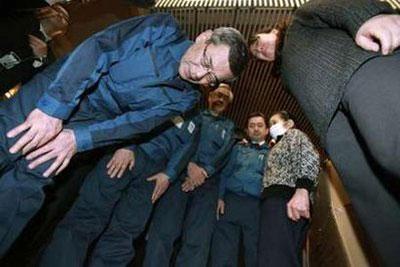 Tokyo Electric Power Company (TEPCO) President Masataka Shimizu
bows to a resident living in an evacuation centre in Koriyama,
Fukushima Prefecture, about70 km (44 miles) from the tsunami-
crippled nuclear reactor, April 22, 2011. REUTERS/Kyodo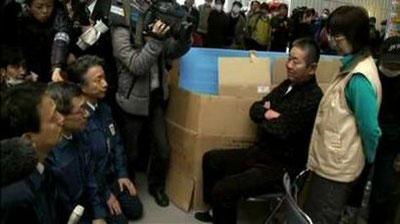 Tokyo Electric Power Company President Masataka Shimizu (2nd L)
talks to a resident living in an evacuation centre in Koriyama
April 22, 2011 in this stillimage taken from video released by
TV Tokyo. REUTERS/TV Tokyo via Reuters TV
Related stories
Editor:Zhang Pengfei |Source: CNTV.CN