Watch Video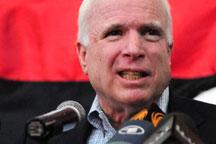 Play Video
US Senator John McCain has arrived in Benghazi for talks with Libyan rebel leaders.
After meeting with the opposition and visiting a hospital, he called on the US to provide more help to the rebels by transferring frozen assets to them and recognizing their transitional council.
John McCain, US Senator, said, "They need a lot of help.They need more air support, the United States has unique capabilities, we should be restoring that.They want to be recognized as the French and Italians have recognized them. I just came from the hospital where I saw a number of people who are badly wounded and dying. And that puts, frankly, that puts a face on it that argues maybe we should be doing everything we can to help these people. And maybe we're not, and they're dying."
McCain also called on NATO to step up its air campaign, and said Western allies should provide rebels with training and weapons, to help them overthrow leader Muammar Gaddafi.
McCain is the top Republican on the Senate Armed Services Committee, who has pressed for military intervention in Libya, long before the UN Security Council authorized military action.
Related stories
Editor:Zhang Pengfei |Source: CNTV.CN