Watch Video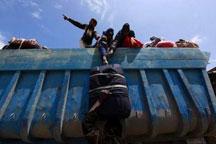 Play Video
International efforts are continuing to evacuate people stranded in Libya's conflict. On Thursday, dozens of wounded and over 850 displaced workers fled shelling from Misrata and arrived in Benghazi.
An international aid ship carrying migrant workers and wounded civilians from Misrata docked in the rebel stronghold of Benghazi.
Migrant workers, mostly from Niger, were taken to the Egyptian border for repatriation.
Libyan government troops resumed shelling overnight in the besieged rebel city of Misrata, where aid ships bring in emergency supplies and evacuate the wounded.
This boat was grounded for almost a day after coming under fire from Gaddafi's troops.
Dr. Jibril Al-Howeidi, said, "The boat waited around 24 hours in the port because of shelling by government forces. We were not even able to move the wounded. But thankfully, doctors were able to deliver all of the wounded safely to Benghazi, where they are being treated in hospitals."
Among the wounded was a young man whose leg had been broken from the shelling.
Injured victim Salah said, "Gaddafi's forces struck Misrata with tank shells, and rockets. A tank shell hit us. My brother and my friend were both killed, and I was hit with shrapnel here. The situation there is awful."
Aid agencies and human rights groups have warned of a growing humanitarian crisis in Misrata, while NATO has publicly acknowledged it needs to do more to protect civilians in the city.
Editor:Zhang Jingya |Source: CNTV.CN