At least 290 have have been killed across six states, as America's deadliest tornado outbreak in almost four decades pulverized entire neighborhoods. Two-thirds of the casualties are from Alabama.
In the space of only seconds, the deadly winds whipped through six southern US states.
Claudia Keen, Tuscaloosa Resident, said, "The baby is one, my other little cousin had just turned five and my auntie is about 42 or 43. And all of them are missing. That was her house right there and it blew everything back this way, so they've got to be back here somewhere. We ain't found them nowhere, the hospitals ain't got them, we don't know where they at."
The twisters devastated two of Alabama's major cities.
Residents were given up to 24 minutes of warning. But the tornadoes were just too wide, too powerful and too locked onto populated areas to avoid a horrifying body count.
Some of the worst damage was in Tuscaloosa, where 37 people have been confirmed dead.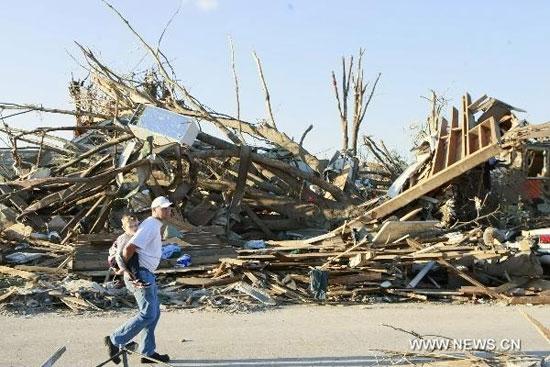 A man carrying a kid walks past the destroyed houses in Tuscaloosa, Alabama, the United
States, April 28, 2011. (Xinhua/Song Qiong)
President Barack Obama has said he would visit Alabama on Friday to view damage and meet with the governor and affected families.
Barack Obama said, ant every American who has been affected by this disaster to know that the federal government will do every thing we can to help you recover, and we will stand with you as you rebuild. "
2000 national guard troops have been activated and are helping to search for people still missing.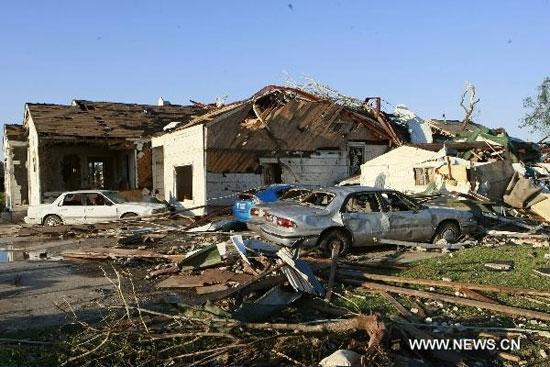 Photo taken on April 28, 2011 show the destroyed houses and cars in Tuscaloosa, Alabama,
the United States. (Xinhua/Song Qiong)
Firefighters have searched one splintered pile after another for survivors.
Alabama has declared a state of emergency, as well as Arkansas, Mississippi,Tennessee and Virginia.
Related stories