Chinese Premier Wen Jiabao has arrived at Jakarta, Indonesia. In his written speech at the airport, Wen Jiabao says China and Indonesia have been good friends and neighbors.
The cooperation between the two countries has developed significantly over recent years and bringing benefits to people of the two countries. Wen Jiabao says the aim of the visit is to further strengthen friendship and deepen mutual cooperation in various fields. Premier Wen stressed the importance of promoting bilateral ties and international and regional peace and stability. When visiting University of Al Azhar Indonesia in Jakarta, the premier joined students in singing an Indonesian folk song after watching them perform folk dances and reciting an ancient Chinese poem.
Premier Wen said China will further boost cooperation in education with Indonesia. Wen stressed while every nation should respect different ethnic groups and religions, these various ethnic groups and religions should also respect each other.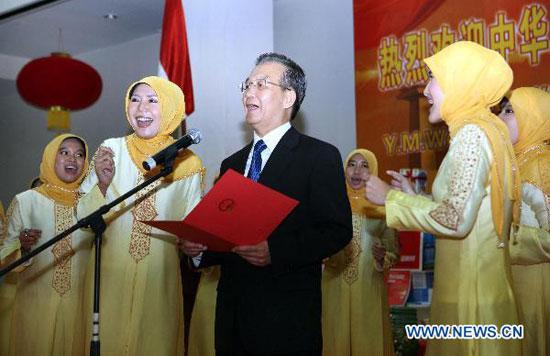 Chinese Premier Wen Jiabao (C) joins students in singing an Indonesian folk song during his
visit in the Universitas Al Azhar Indonesia (Al Azhar Indonesia University) in Jakarta,
capital of Indonesia, April 29, 2011.Wen is on a two-day visit to Indonesia. (Xinhua/Yao
Dawei)
The premier said youth in China and Indonesia was the foundation and future of the bilateral friendship and he encouraged the Indonesian students to visit China so that they could see for themselves the real China. Indonesia is Wen's second and last leg of his Southeast Asia tour, which has already taken him to Malaysia.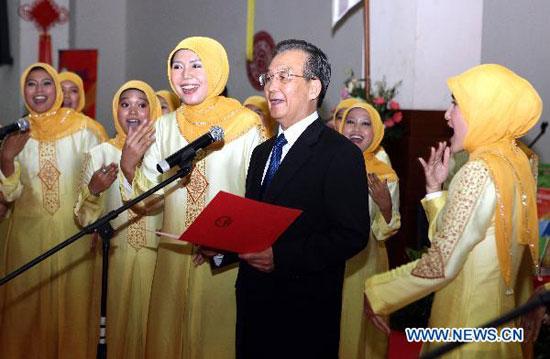 Chinese Premier Wen Jiabao (C) joins students in singing an Indonesian folk song during his
visit in the Universitas Al Azhar Indonesia (Al Azhar Indonesia University) in Jakarta,
capital of Indonesia, April 29, 2011.Wen is on a two-day visit to Indonesia. (Xinhua/Yao
Dawei)
Related stories
Editor:Yang Jie |Source: CNTV.CN