Watch Video
Play Video
Japanese workers have entered the reactor at Japan's stricken nuclear power plant for the first time since it was rocked by an explosion after the devastating March earthquake and tsunami.
The plant's operator, Tokyo Electric Power says the workers connected ventilation equipment in Unit one in an attempt to absorb radiation from the air inside. Wearing protective suits, masks and air tanks, the workers entered through a special tent at the entrance to prevent radiation leaks. The work is expected to take about four or five days. High radiation levels inside the building have previously prevented staff from entering.
Two Tepco managers and 10 contract staff from outside the company will spend up to 10 minutes each inside, connecting eight duct-pipes to ventilators to filter out radioactive material in the air.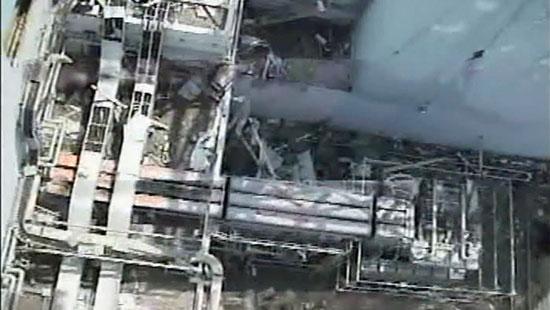 The north side of the damaged reactor building of Unit 1 at the Fukushima Daiichi nuclear
power plant is shown in this April 21 image from video footage taken by T-Hawk drone
aircraft. (Tokyo Electric Power Co./Associated Press)
Related stories
Editor:Yang Jie |Source: CNTV.CN