Watch Video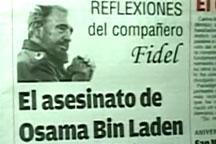 Play Video
Fidel Castro has criticized the United States for the manner in which its forces killed al-Qaida mastermind Osama bin Laden, saying it executed him in front of his family.
Castro said in an opinion piece published Thursday in Cuban media that the raid inside Pakistan by a team of U.S. Navy Seals also violated that country's laws and offended its dignity. The former Cuban leader explained that he abhors all forms of terrorism. He also said the decision to kill bin Laden and bury him at sea "has turned him into a much more dangerous man. Meanwhile, other Cubans described the US action as a crime.
Aurelio Oliva, Havana Resident, said, "I think what they have done is a crime and shows a lack of respect toward humanity and human rights. It is something everyone should criticize."
Omar Chavez, Electrician, said, "They caught him alive and killed him in front of his daughter, whom they wounded. It should not have been done that way. It is traumatic for that little girl. It is a thorn in that little girl's heart that will stay with her forever regardless of whether or not her father was what they say he was."
Related stories
Editor:Zheng Limin |Source: CNTV.CN