Watch Video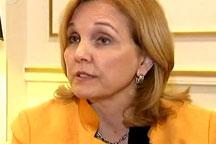 Play Video
The head of the United Nation's World Food Programme says Libya's food supplies could run out within six to eight weeks unless plans are put in place to avoid a full-scale humanitarian crisis.
Josette Sheeran, Executive Director of World Food Programme, said, "The challenge in Libya is that this is a centrally controlled food system that was run by the government and it's not being restocked now. Our assessment which we put out and issued throughout the United Nations last week says that that whole system could run out of food in 6 to 8 weeks. This is already a problem in the East, where authorities in the East are having problems buying food and purchasing it in global markets, bringing it in to very dangerous ports where the cost of shipping and insurance is extremely high even if you can get in. And then being sure it can be distributed with breakdowns in fuel supply and other issues."
The World Food Programme reaches about half a million people in Libya who do not have adequate access to food. Programme officials are very worried about a complete breakdown in the coming weeks of the country's food supply system.
Related stories
Editor:Zheng Limin |Source: CNTV.CN