Watch Video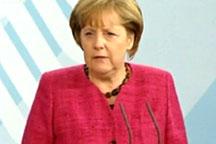 Play Video
German Chancellor Angela Merkel has met with visiting Palestinian President Mahmoud Abbas in Berlin to discuss issues in the Middle East, in particular possible support for a unilateral declaration of Palestinian independence. She also called for a quick restart of the Middle East peace process.
Angela Merkel, German Chancellor, said, "We are convinced that time is short and I am pleased that President Abbas has underlined this point once again. We want a two-state solution and we must work towards this. We do not think that one-sided moves will help."
Abbas said it is their right to declare a Palestinian state. If this option were to fail, they would go to the United Nations, that being the only institution in the world the Palestinians deem competent to decide the issue. He also said Palestinians are willing to accept the outlines of a peace agreement proposed by Britain, France and Germany. That agreement calls for an immediate halt to settlement activity by the Israelis, a solution to the question of Palestinian refugees and agreement on the status of Jerusalem as the future capital of both countries.
German Chancellor Angela Merkel (R) and visiting Palestinian President Mahmoud Abbas attend a news conference in Berlin, Germany, May 5, 2011. German Chancellor Angela Merkel on Thursday called for Israel and the Palestinians to restart peace negotiation "very quickly." (Xinhua/Ma Ning)
German Chancellor Angela Merkel speaks during a news conference in Berlin, Germany, May 5, 2011. German Chancellor Angela Merkel on Thursday called for Israel and the Palestinians to restart peace negotiation "very quickly." (Xinhua/Ma Ning)
German Chancellor Angela Merkel (L) shakes hands with visiting Palestinian President Mahmoud Abbas during a news conference in Berlin, Germany, May 5, 2011. German Chancellor Angela Merkel on Thursday called for Israel and the Palestinians to restart peace negotiation "very quickly." (Xinhua/Ma Ning)
Editor:Zheng Limin |Source: CNTV.CN