Watch Video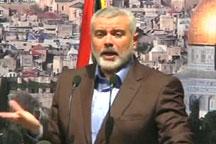 Play Video
The Hamas leader in Gaza has urged militant groups to stick with a de facto truce with Israel. Ismail Haniyeh made the comment just a day after Hamas and Fatah signed a unity pact in Cairo. He added doing so would give the reconciliation deal a chance.
Ismail Haniyeh, Hamas Leader in Gaza, said, "We should not give in to any political extortion in order not to impede this reconciliation and this national achievement. Let Israel declare what they want to declare, we have no relationship with the occupier. The relationship we have with them is one of struggle and not one of mutual satisfaction."
Israel says it has suspended tax transfers to the Palestinians, in response to their U.S.-backed agreement to forge an alliance with rival Hamas. Israeli Finance Minister Yuval Steinitz also said he had suspended the handover of customs and other levies that Israel collects on behalf of the Palestinians under interim peace deals, as Israel feared the money would be used to fund Hamas. Reacting to the economic issue, Haniyeh said Fatah should not give in to Israeli threats of suspending tax transfers to Palestinians.And his Thursday comment seemed to be the first concrete sign of progress for the unity deal, which was brokered by Egypt.
Ismail Haneya, Prime Minister of Hamas' Gaza administration gives a speech in Gaza City, May 5, 2011. Haneya said on Thursday his government is ready to resign after a unity deal was reached with rival Fatah movement. (Xinhua/Yasser Qudih)
Ismail Haneya, Prime Minister of Hamas' Gaza administration gives a speech in Gaza City, May 5, 2011. Haneya said on Thursday his government is ready to resign after a unity deal was reached with rival Fatah movement. (Xinhua/Yasser Qudih)
Related stories
Editor:Zheng Limin |Source: CNTV.CN