Watch Video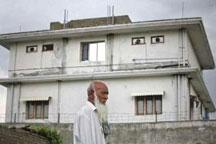 Play Video
Two days ago, the White House said Osama bin Laden did not have a weapon on himself, but resisted capture during Monday's raid. But according to a person familiar with the latest US government reporting, only one of four principal targets shot dead by US commandos was involved in any hostile fire.
The source also confirmed that there are no indications that bin Laden directly threatened his attackers. Some analysts say it's possible the conflicting accounts will be revised yet again.
What really happened? A senior defense official now says as the raiders moved into the compound from the helicopters, they were fired on by bin Laden's courier, who was in the guesthouse. The SEALs returned fire, and the courier was killed.
As they moved into the main building, they encountered and killed a man on the first floor, and then bin Laden's son on a staircase.
When they arrived at bin Laden's room, they shot him in the chest and then the head, after he appeared to be lunging for a weapon.
Another US government source also gave similar details, saying the commandos didn't encounter too much resistance, during what US officials originally described as a 40-minute firefight.
The source said the commandos were rushed by a woman. They shot her in the leg and pushed her to the side. Bin Laden's reaction was unclear, but the source said the attackers did not wait for much a reaction, and shot him almost immediately.
A senior Pakistani security official described the operation as killing bin Laden in "cold blood".
And, according to the US magazine Aviation Week, a previously undisclosed, classified stealth helicopter apparently was part of the US task force.
It appears to be a highly modified version of an H-60 Blackhawk, intended to escape Pakistani detection.
Photos released show that the tail features stealth-configured shapes on the boom.
It was the only part the SEALs were unable to destroy, after the aircraft made a hard landing outside the compound.
Related stories
Editor:Zhang Pengfei |Source: CNTV.CN