Watch Video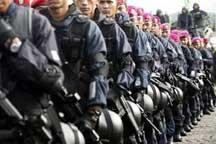 Play Video
The Indonesian capital, Jakarta, has turned into a fortress for the 10-member ASEAN summit. 7000 security personnel are being deployed across the city on heightened terror threat. Ten heads of state and government are attending the 2 day summit.
Security has been tightened at every corner of Jakarta as the city gets ready for the Asean summit over this weekend.
The security forces are positioned in and around the Summit site and along the streets designated as routes for the leaders.
Shweta Bajaj, Indonesia, said, The entire city is on high alert specially places of importance like the airport, the five star hotels where the delegates are staying and of course the Jakarta Convention Centre where the Asean Summit is being held. Every corner has got security personnel manning every post and checking everyone entering here.
As many as 7,000 police and military personnel have been mobilized to secure the proceedings of the Summit and other meetings from 4th of May to 9th of May.
The National Police alone has more than 4000 personnel deployed to make sure that everything goes smoothly.
Sudjarno, Chief of Operations, Jakarta Metropolitan Police, said, "We have prepared the security of the Asean meeting with the cooperation of the presidential security, military and the police force. Everyone has their own role but we work together in order to secure the Asean summit."
More than 40 security cameras are giving details of Asean summit leaders and other major locations.
All areas with regard to the arrivals, hotels and travel routes of the heads of the states have been connected with and monitored through a screen at the Asean Summit Security Post.
Sudjarno, Chief of Operations, Jakarta Metropolitan Police, said, "We have security at all locations at the Jakarta convention center, at all the hotels where the heads of states are staying including the routes that they would be taking. Airports also has special security."
Conducting the Asean summit is considered a matter of pride here, and after a spate of attacks in the recent past, Indonesia is not taking any chances to show the world its expertise to hold such an event.
Related stories
Editor:Zhang Pengfei |Source: CNTV.CN