Watch Video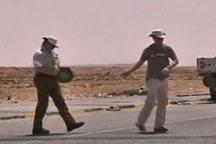 Play Video
A team of munitions experts from the British-based Mines Advisory Group set off controlled explosions in the area of the rebel-held town of Ajdabiyah to clear buried mines.
The international Committee of the Red Cross was also working in the same area to clear explosives and said the ground being combed had been occupied by Libyan government forces.
Mine experts said at the end of March that Libyan government forces had sown land mines around Ajdabiyah as they retreated from the area a few days earlier. A rebel fighter said Muammar Gaddafi had intended the munitions to cause as many casualties as possible.
Rebel Fighter Younis Alwafi said, "These mines were left by Gaddafi's forces after we managed to force them away from Ajdabiyah. These mines were planted in order to kill as many innocent people as possible.
Thank God with our efforts we were able to locate them and set them off. We have been combing the area and we will continue to do so until we reach Tripoli, with God's will."
Related stories
Editor:Zhang Jingya |Source: CNTV.CN