Watch Video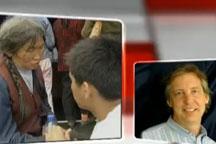 Play Video
For more on the psychological aid to those in the quake-hit region, we are joined by Alfred Chambers. Mr. Chambers is a psychologist from the United Family Hospital in Beijing.
Q1: What are the biggest psychological problems for the quake victims who lost family members, especially the orphans?
Q2: What kind of help has been provided for them?
Q3: What are the phases they have been through and what is still missing in our counseling and psychological help?
Q4: For those who can not recover from the trauma and become suicidal, what can be done to help?
Q5: Who should be providing the help, is it volunteers, the government or NGOs who can provide professional help?
Editor:Zhang Jingya |Source: CNTV.CN