Watch Video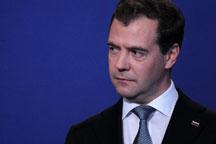 Play Video
G8 leaders have ended their two-day summit in the northern French resort town of Deauville with a demand for Libyan leader Muammar Gaddafi to step down. They say Gaddafi and his government have failed to fulfil their responsibility to protect Libya's people and have lost all legitimacy.
Russian President Dmitry Medvedev has joined the call on Muammar Gaddafi to give up power and said that Russia would not give shelter to the Libyan leader.
Dmitry Medvedev, Russian President, said, " I do not think it really matters all that much. If he takes the important decision and it would serve his country right then it would be right for the people. Then of course we could discuss the modalities, what country could give him refuge on what terms, what he would be allowed to keep and what he would have to give up. Anyway the international community no longer sees him as the leader of Libya and it's not just the position of the G8, but of all the African states whose leaders were present at today's session."
US President Barack Obama says they are determined to stick with the NATO-led intervention in Libya until the crisis is resolved.
Host French President Nicolas Sarkozy says it's not possible to mediate with Muammar Gaddafi. He adds that the conditions of his departure can be discussed.
Sarkozy also confirmed that he has accepted the Libyan rebels' national transitional council's invitation to visit Benghazi with British Prime Minister David Cameron at a proper time.
And British Prime Minister David Cameron says NATO's war to oust the Libyan leader is entering a new phase. He has confirmed a decision "in principle" for UK commanders to be prepared to deploy UK Apache attack helicopters.
Editor:Zheng Limin |Source: CNTV.CN