Watch Video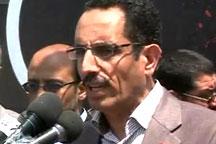 Play Video
Libya's rebel administration has welcomed statements of support from the G8 as international pressure builds on Moammar Gaddafi to step down. Libya's National Transition Council is expecting the arrival of Russian envoy Mik-hail Margelov (Mar-kiel-awf) as negotiations for Gaddafi's exit get underway.
Abdel-Hafidh Ghoga, Vice Chairman of Libya National Transition Council, said, "All of the G8 announced its support for the Libyan people in democracy and democratic change. Gadhafi must leave and the situation of the G8, all of them individually, is that Gadhafi must leave the Libyan people to create their own democratic country and this is what we want."
The council was formed shortly after the uprising in Libya began and its named representatives so far include only one woman and no one under the age of 40. The council's chairman has said that the body was working on becoming more representative. The council also initially promised a referendum on constitutional and parliamentary elections within four months of Gaddafi's departure followed two months later by a presidential election. However, representatives of the council have recently warned it could take up to two years to organize elections.
Editor:Zheng Limin |Source: CNTV.CN