Watch Video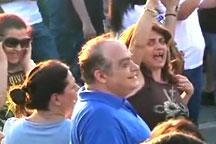 Play Video
Greeks have held another protest against their government's austerity measures. Ordinary citizens are angry that they are suffering hardship in order to reduce the government's debt.
Another Greek protest against the government's austerity measures.
For the second consecutive day, around ten thousand citizens camped outside Parliament until late into night.
Rather than being assembled by political parties or labor unions, the people organized the demonstration themselves over the Internet.
Protester said, "We have reached a point that we don't have jobs, we have nothing, we have no money. I am 22 years old and I have no idea what will happen in the future."
The IMF has warned that Greece will need a decade to overcome its debt crisis.
But ordinary Greeks are angry that they are paying to reduce the debt. Their standard of living has plummeted, while some politicians they view as corrupt and tax evaders are not being held accountable.
EU policymakers have warned Greece needs broad political backing for its cuts in order to get the fifth 12 billion euro installment of its bailout.
And financial markets were spooked by comments from Jean-Claude Juncker, who chairs the meetings of euro zone finance ministers, that the IMF could withhold the next aid installment.
Without the next rescue package payment, Greece cannot cover an upcoming funding crunch and would go bust.
Related stories
Editor:Zheng Limin |Source: CNTV.CN