Watch Video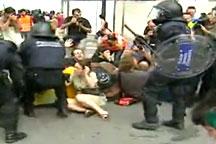 Play Video
In,Spain, police have clashed with protesters demonstrating against the country's economic problems. More than 100 protesters were injured in the altercations.
The trouble started when police tried to clear the protesters from a main square in Barcelona so sanitation workers could clean up ahead of a soccer match on Saturday night. Many of the protesters, angry about high unemployment and austerity measures, refused to move, after having been camped there for nearly two weeks.
Nearly two years of recession has left Spain with an unemployment rate of over 21 per cent, the highest in the eurozone, on top of major debt problems.Many young and highly educated Spaniards can't find jobs as the nation's economy struggles to emerge from a two-year recession.
Editor:Zheng Limin |Source: CNTV.CN