Watch Video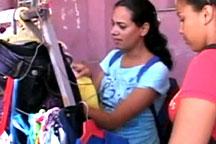 Play Video
Cuba has announced new measures to spur the island's push into private enterprise. They include a moratorium on payroll taxes for small business owners and loosening limits on the size of private restaurants.
The measure was adopted at a recent Cabinet meeting chaired by President Raul Castro.
It applies to all small business owners, but is likely to have its greatest effect on private restaurants and cafes that employ waiters and cooks.
Under the new guidelines, anyone who hires between one and five workers will not be subject to payroll taxes during 2011.
The government has laid out rules that make it easier for the self-employed in several areas to claim tax deductions, and to receive a temporary suspension of their business licenses if they don't plan to work.
The government also says it will allow restaurants to serve up to 50 diners at a time, up from the 20 that had been permitted previously.
The announcement is welcomed by the public.
Armando Rodriguez, Cobbler, said, "It's a good measure because there's a million opportunities. We can work, of course, always paying the taxes that must be paid. No problem."
Miguel Angel Morales, Restaurant Owner, said, "I imagine that everything they're doing is to make the country a better place, improve the economy and improve all the activities that will develop from here on in."
Dozens of new restaurants have opened in Havana and other Cuban cities since Castro's government began overhauling the economy last year.
More than 220,000 Cubans have taken out licenses to work for themselves since permission for such activities was liberalized in October 2010.
Economists say creating jobs in the private sector is crucial to getting the economy back on track.
Editor:Zheng Limin |Source: CNTV.CN