Watch Video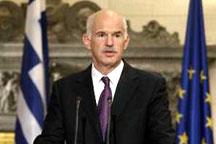 Play Video
Greek Prime Minister George Papandreou said on Saturday a new austerity program will be implemented whether it's in agreement or not with other political parties. Canada has lent its support to his efforts to deal with the country's debt crisis.
George Papandreou, Greek Prime Minister, said, "Whether there is consensus or not we will take our decisions, we will move forward with constructively implementing a program. This isdifficult and painful, but is a safe and sure road to exiting the debt crisis. That is what we are doing and that is what we will continue to do."
Papandreou made the statement during a news conference in Athens with his Canadian counterpart Stephen Harper. The Canadian Prime Minister has shown his support for Papandreou's decision on carrying out the austerity measures decisively.
Only one opposition leader showed willingness to support Papandreou during a meeting of the five main parties on Friday to discuss the debt crisis. It was the second attempt in a week by Papandreou to bring opposition parties on board as the government implements more tough cost-cutting measures to reduce the debt.
Editor:Zhang Pengfei |Source: CNTV.CN