Watch Video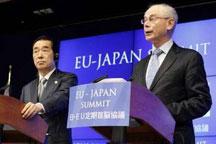 Play Video
Japan and the European Union have agreed to begin negotiations on a free trade agreement that would strengthen economic ties between two of the world's largest economies.
Leaders of the EU and Japan are meeting at a summit in Brussels. EU negotiators want any trade deal to cover all goods, services and inward investments. They also want to break down non-tariff barriers they argue impede European access to Japanese markets.
The EU will recommend a mandate for formal free trade agreement if Japan is willing to make certain concessions. Trade ties between the two have consistently shown a strong surplus in favor of Japan. The EU is currently Japan's third largest trade partner while Japan is Europe's sixth.
Nanto Kan, Japanese Prime Minister, said, "Japan has made significant progress on matters of concern for the Europeans like the non-tariff barriers and government procurements. As a result of this, Japan and the EU have come out with an agreement to start negotiations on a Free Trade Agreement. This will lead to a dramatic economic partnership between the EU and Japan."
Jose Manuel Barroso, Eeuropean Commission President, said, "This is the right time to move towards upgrading our political and economic partnership. In particular, the European Union feels that under the right conditions a Free Trade Agreement, together with a comprehensive parallel agreement on political and sectoral issues, would be in the strategic interest of both the European Union and Japan. And it would also be very important for the global economy."
Editor:Zhang Pengfei |Source: CNTV.CN