Watch Video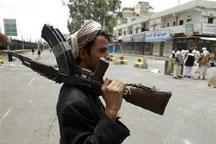 Play Video
The government in Yemen has reached a temporary truce with armed tribesmen to end pitched battles that have killed at least 127 people in the capital, Sanaa.
But the agreement with troops led by opposition tribal leader, Sheikh Sadiq al-Ahmar, has not placated die-hard anti-government demonstrators, who are still staging major protests.
The agreement includes the withdrawal of armed tribesmen occupying government buildings and moves to normalize life in Sanaa.
It states an end to all forms of military presence and stipulates that government forces should not attack al-Ahmar's house again.
One government official said the agreement would take effect Sunday morning.
But protesters continue to demand President Ali Abdullah Saleh step down.
Saba'a Al-Hathri, Protester, said, "The issue of a civil war will end if Ali Abdullah Saleh steps down, leaves the Yemeni people and lets the Yemeni people decide their own fate."
This week's intense battle began with President Saleh's security forces attacking the home of Sheik Sadeq al-Ahmar, head of the powerful Hasid tribal confederation.
Tribal fighters came to al-Ahmar's defense and seized a number of government buildings in Sanaa.
The clash followed a breakdown in efforts by Yemen's Gulf Arab neighbors to negotiate an end to the crisis.
The deal would have required Saleh stepping down in exchange for immunity from prosecution, but he balked at signing.
The prolonged political crisis in the country has cost the economy as much as 5 billion US dollars. Yemen's trade minister says immediate aid is needed to prevent a meltdown in the economy worth 31 billion US dollars.
Editor:Zhang Pengfei |Source: CNTV.CN