Watch Video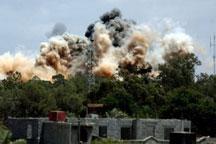 Play Video
NATO warplanes have staged rare daytime air strikes on the Libyan capital of Tripoli. The strikes add to military and diplomatic pressure on Colonel Muammar Gaddafi to give up power.
NATO warplanes followed its fifth straight night of attacks with daytime strikes on Saturday. The air raids sent smoke skywards from the area of Gaddafi's compound, a frequent target of NATO attacks.
A NATO military spokesman says the strikes also targeted a vehicle storage compound near the east of Gaddafi's so called private tent area. But it is not part of the main Gaddafi complex.
The spokesman also says NATO's airstrikes on Friday night destroyed the guard towers at Muammar Gaddafi's compound in Tripoli.
Meanwhile, conflicts have continued between the Libyan government forces and the rebels.
A rebel spokesman in Misrata, reported a major battle on Saturday in Tawargha, 50 kilometers east of Misrata.
He said five rebels were killed and ten wounded.
Fighting also raged 25 kilometers east of Misrata.
Gaddafi's forces have stepped up their attacks on Zintan, part of a chain of mountain settlements near Libya's border with Tunisia, where rebels have been holding off assaults for months.
Editor:Zhang Pengfei |Source: CNTV.CN