Watch Video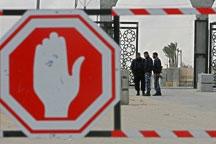 Play Video
Egypt has permanently opened the Rafah crossing into Gaza, ending its four year blockade of the Hamas-controlled territory. Gazans now have an open border to the world once again, as Matt Stuttard explains.
Easy come, easy go.
There are still long queues. But these Gaza residents know they WILL be allowed through the Rafah border crossing... and into Egypt.
Under the new travel guidelines, women, children and men over 40 no longer require a visa to enter Egypt.
And after the crossing re-opened on Saturday, nearly 300 people did just that, in the first hour alone.
Taleb Hamdy, Gaza Resident, said, "When I learnt the border crossing was open, I was so happy. Before, the process of getting across was very difficult and complicated."
Faeiz Akila, Gaza Resident, said, "I'm so happy. I hope this terminal will become like international terminals. I lived in Germany for forty years; we used to drive hundreds of kilometers and nobody asked who we were. But here in the Middle East, we're humiliated when crossing borders. I hope it will be better."
Rafah is Gaza's gateway to the world. It was closed in 2007 when Hamas took control of the territory. Egypt reopened it in 2010, but only for special circumstances, such as the transport of humanitarian aid.
With the Israeli border with Gaza fully sealed off, the Rafah opening will ease the pressure a little further.
Ghazi Hamed, Hamas, Dep. Foreign Minister, said, "I think the opening of the crossing is a good step to ease the suffering of the Palestinian people. It's a strong and brave step."
Egypt made the decision after rival Palestinian groups signed an agreement to reconcile and form a unity government in Gaza and the West Bank.
Nabil Shaath, Fatah Party, said, "We are very happy. It's a brave decision by Egypt to open the border, and open the prison created by Israel. The siege has been illegal according to all UN laws."
Under the new regulations, the Rafah crossing will operate six days a week instead of five. Working hours will be extended by two hours a day.
Egypt's decision has raised Israeli concerns. The country had made clear its hope that the tight controls would remain in place. It's urging the Egyptian authorities to prevent Rafah from becoming a conduit for the movement of weapons and militants.
Editor:Zhang Pengfei |Source: CNTV.CN